Hello, welcome to the website of D-switch Electronics Co., Ltd.
D-SWITCH ELECTRONICS Co., Ltd.
Tel: 086+0769-81326026
Fax: 086+0769-81326036
Website: http://www.desong168.com/
Address: No.23, Jiaoyuan Road, Shijie Town, Dongguan City ,GuangDong,P.R.China
China Factroy Business Contact:
Miss Zhang:
Tel: 18102932959
Email: ds36@dgdesong.com
Mr Ling:
Tel: 13925792306
Email: ds01@dgdesong.com
Current Position:
Home
->
Industry News
-> Smart home, mobile app and push button switch
Smart home, mobile app and push button switch
Article source:Editor: Table of Contents:Industry NewsClick rate:

release time:2019-03-06 15:14:45
Similar to previous years, the theme of the Internet of Things (IoT) was highly visible at this year's "2018 Consumer Electronics Show (CES)." In the past, the focus was on connected devices, and this year's theme is about integration. At present, there is no shortage of smart home equipment on the market – everything from smart lights, smart curtains and door locks to Haier refrigerators with internal cameras, so you can see what's inside when you are in the market. However, there are still many problems with smart home technology applications. Which products add the most value to the user? How do they work together? How reliable are they? What are the risks of outdated equipment? Many of these issues are related to a common theme - the role and value of hardware and software in end devices.
From a hardware perspective, it's important to emphasize that no matter how smart it is (set up, modify settings, reset devices...), consumers almost always need to interact with the device, and how they see the experience for them. The overall satisfaction and recognition of the final product quality has a major impact. While mobile apps and software often get the most attention, they are also a cause of frustration. In fact, consumers are more frustrated by the command, scheduling, and management of device applications than the actual device itself. More importantly, consumer distrust of the reliability of connected devices has hampered the use of smart home products. Keeping this in mind helps to discover key hardware features and how they can improve consumer satisfaction with smart home devices.
Home security is one of the main growth areas in the smart home market. For 90% of consumers, personal and home security is the main driver of smart home applications. The main products for home security include Internet or IP cameras and networked door locks. IP cameras are one of the fastest growing smart homes, and like many smart home products, the focus is on using the mobile app to easily set up cameras and use the Internet to monitor homes through laptops. Although the software seems to eliminate the need for hardware devices (such as switches), as a user interface, hardware is important in one situation - when you forget your account password. In this case, the neglected, light-touch metal button switch in the camera becomes a watershed that can reset the system and have a product that is full of expensive technology but can't show you anything.
For controlling home access, there are a variety of products on the market, including a built-in camera, an Internet doorbell that shows who is at the door, and a smart door lock that lets you open the door remotely. These devices come in handy for the nanny or the forgetful teenager who left the keys at the school. Most smart door locks use some kind of miniature light touch metal switch to set or reset the door lock. These light-touch metal switches are small in size and long in service, capable of handling rain, moisture and other environmental conditions. In addition to its small size, the doorbell switch used on the Internet doorbell also has a long service life, and it can adapt to overtravel and super-operational conditions (think of the neighboring children and the annoying salesman who repeatedly slam the doorbell). Although the Internet and software have once again gained glory, simple button switches have become a watershed for creating convenience or creating frustration.
In the next few years, the trend of smart home development can push the market to grow at a time, making ordinary families safer and more energy efficient. While software and communication platforms play an important role, simple and inexpensive push-button switches ensure that consumers always have some control over the operation and reliability of these devices.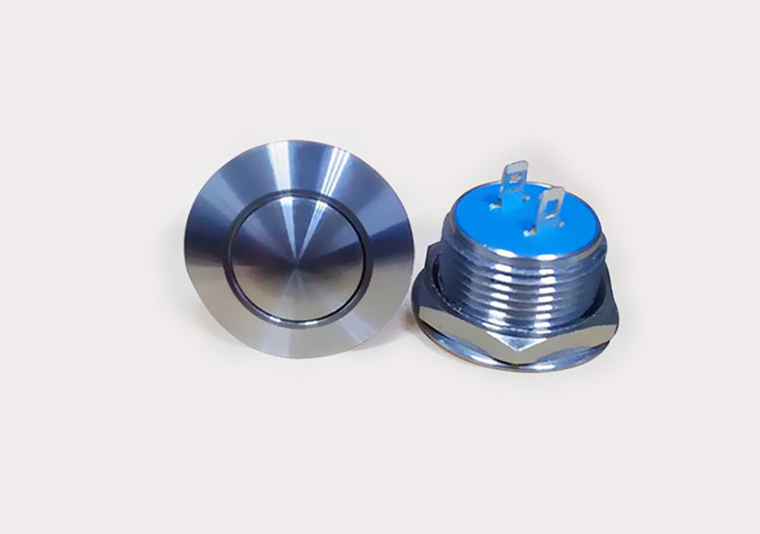 Comment
Please consciously abide by Internet-related policies and regulations. It is strictly forbidden to publish pornographic, violent, reactionary remarks.
| | |
| --- | --- |
| Evaluation: | Praise neutral Bad |
| expression: | |
Verification code:

Dexter WeChat public platform
Address: No.23, Jiaoyuan Road, Shijie Town, Dongguan City ,GuangDong,P.R.China. Mobile: 18103065197 E-mail: ds08@dgdesong.com
COPYRIGHT © 2019 D-SWITCH Electronics Co., Ltd. ALL RIGHTS RESERVED