Hello, welcome to the website of D-switch Electronics Co., Ltd.
Current Position:
Home
->
Industry News
-> Medical Industry new pneumonia detection, 5g, interconnect community and 8mm small metal key switch
Medical Industry new pneumonia detection, 5g, interconnect community and 8mm small metal key switch
Article source:D-SWITCHEditor: Table of Contents:Industry NewsClick rate:

release time:2022-03-15 15:57:05
The 2021 is over, and we are on the threshold of a New Year. On the basis of rethinking the fight against NCP, the Food and Drug Administration has approved medical devices, NCP detectors, drug therapies and vaccines. One of the new approved coronary pneumonia testers collects data from your home, allowing you to get immediate results about your exposure to and possible infection with the virus.
As we have seen from the current detection process: Symptoms Appear, symptoms intensify, a new test for pneumonia is performed and results are awaited. You should have the results shortly. Let's hope these results are negative. But if it turns out to be positive, who knows how many people you've exposed to and may have infected during the incubation period? As more data become available, we find that asymptomatic carriers are more likely to spread than symptomatic patients. More frequent testing is needed.
The number of new cases of pneumonia worldwide is increasing rapidly and the rate of transmission is accelerating. The use of advanced portable interconnection tools is needed to help slow the spread of the virus. The world also needs rapid, economical and easy-to-use home testing to reduce the burden on hospitals and testing centers. China has implemented digital platforms that are inter-related, allowing full-process analysis, traceability and post-health tracking. If the test result is positive, the tested person needs to be isolated immediately, thus greatly reducing the possibility of transmission. The detector can be used for home analysis. The detection is done by the electronic analyzer of the detector. With an Internet or Bluetooth Connection, users will be notified of the test results within 15 minutes via their smartphones. With the rise of virtual medicine and telemedicine, the detection of NCP was rapidly expanded to include detection of NCP, driven by the new crown disease, but telemedicine patients need to provide flu and vital static data in order to make an accurate and complete diagnosis. Not only do we need a new home pneumonia monitor, we also need connected tools and personal measuring devices. This support is needed by telemedicine service providers. The advent of new devices ensures that doctors can access such data in real time and accurately.
D-SWITCH supports global branding and product innovation by providing advanced switching solutions and innovative products to medical device manufacturers. But we didn't stop there. The D-SWITCH also provides the most useful switching solutions for automotive, consumer, and industrial applications.
The D-SWITCH PBM-12Q series is the shorter metal-on-switch currently available, meeting all performance requirements for the most demanding medical applications. The ultra-thin (12.1x 11 mm printed circuit board inside) , ultra-compact size allows designers to design products freely without sacrificing size, quality or performance. With this small size, designers can gain a lot of flexibility to make room for additional features in their designs, or to reduce the overall size of printed or flexible circuit boards (PCBS/FLEX) .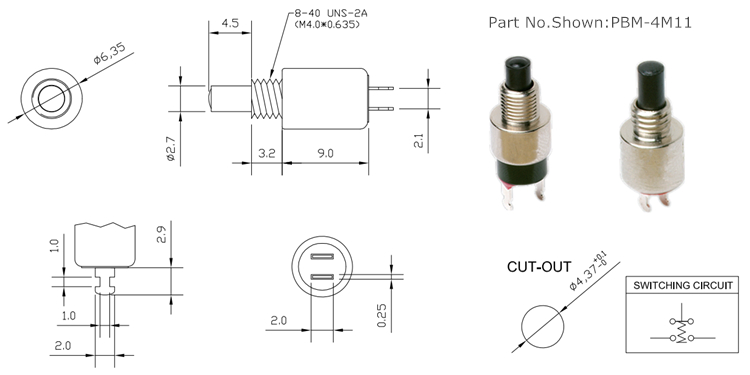 Another solution is PBM-4 ultra-small mounting hole 4mm metal key switch. If the customer has any wiggle room, the D-SWITCH PBM-16Q family is another smart choice for the health care market. The PBM-16Q is also small in size, with a built-in printed circuit board measuring 16.2 × 11 mm. Its ultra-thin and compact size gives the designer more options to add other functions to the device or to reduce the size of the printed circuit board. The PBM-16Q series is available in 160gf, 250gf, 400gf and 540gf formats, all of which are the most commonly used in the market. Up to 500,000 service lives ensure the reliability of customer applications.

Dexter WeChat public platform
Address: No.23, Jiaoyuan Road, Shijie Town, Dongguan City ,GuangDong,P.R.China. Mobile: 18103065197 E-mail: ds08@dgdesong.com
COPYRIGHT © 2019 D-SWITCH Electronics Co., Ltd. ALL RIGHTS RESERVED