Hello, welcome to the website of D-switch Electronics Co., Ltd.
Dongguan Desung Electronics Co., Ltd.
National toll-free hotline: 400-008-3581
Tel: 086+0769-81326026
Fax: 086+0769-81326036
Address: Hengshui Industrial Zone, Shijie, Dongguan, Guangdong, China
Mobile phone contact for China Factroy business:
Business lady Zhao: 18103065197
Miss Wang Wang: 15019113756
Business Manager: 13925792306
Metal doorbell switch
Product Details
D-SWITCH☞POWERING YOU UP FOR SUCCESS
-----------------------Product parameters----------------------
 Panel Cutout: 19mm Diameter

 Max.Switch Rating: 5A 250V AC

 Switch Combination: OFF-ON

 Operation Type: reset type

 Housing material: stainless steel / brass nickel

 plated / aluminum alloy / brass chrome

 Light shape: dot light / ring light / symbol light

 Base: PA66

 Operating pressure: 500gf-100gf

 Travel: 2.0mm ± 0.3mm

Contact resistance: 50Ω Max(initial)

Insulation resistance: 100MΩ Min

Dielectric strength: 2000VAC for 1 Minute

Temperature: -20 ° C to 85 ° C

Panel thickness: 1mm-10mm

LED Ratde voltage:

1.8V/3V/6V/12V/24V/36V 48V/110V/220V

ILLUMINATION BASE RATlNG:

Red, Yellow and Orange: 20mA 1.8V;

Blue, Green and White: 20mA 2.8V
---------------------Specification drawing---------------------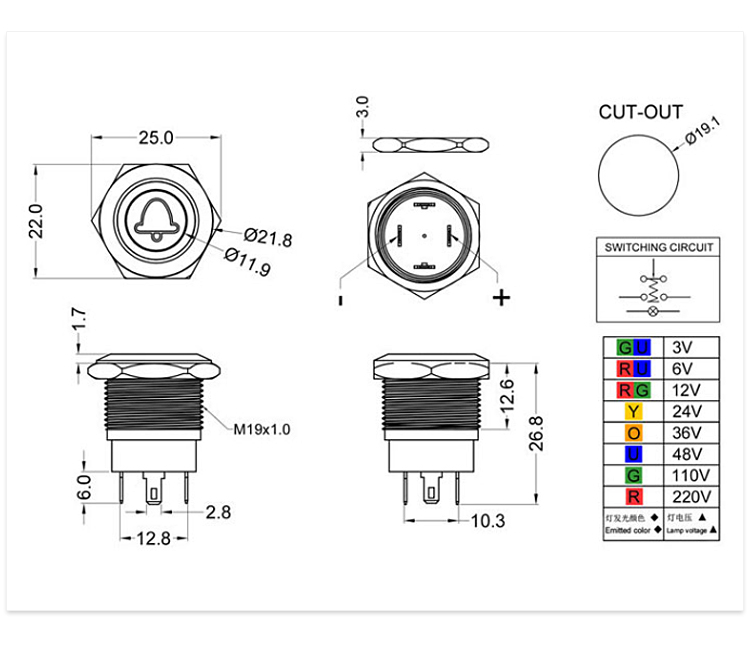 *

Indicates required
purchase:Metal doorbell switch
*

Contact:

Please fill in your real name

company name:

Please fill in your company name

contact number:

*

cellphone number:

Please fill in your mobile number

E-mail:
contact address:

*

Purchase intention description:
Please fill in the quantity of the purchased products and the product description so that we can carry out uniform stocking.
Products related to this product
Comment
Please consciously abide by Internet-related policies and regulations. It is strictly forbidden to publish pornographic, violent, reactionary remarks.
| | |
| --- | --- |
| Evaluation: | Praise neutral Bad |
| expression: | |
Verification code:
Dexter WeChat public platform